SAIETTA to showcase innovative light duty eDrive solutions at Cenex-LCV
Global eDrive solutions provider will showcase light duty portfolio
Range of integrated solutions for two-, three- and four-wheel applications
Full integration with power electronics and transmission, plus full e-axle, enables OEMs to significantly speed up vehicle development
Saietta will be on stand C3-600 at Cenex-LCV, in Millbrook, UK on 7 - 8 September
Oxfordshire, UK, 7 September 2022 – SAIETTA Group plc (Saietta), a specialist in providing flexible eDrive solutions for light and heavy duty vehicles, will showcase a range of innovative eDrive technologies at the Cenex-LCV expo in Millbrook, UK on 7 - 8 September.
Saietta's portfolio of turnkey eDrive technologies are designed for rapid integration into a wide range of light duty urban vehicles. The UK headquartered company is working with a range of customers to decarbonise light duty mobility with the aim of helping to clean up air in the world's biggest cities.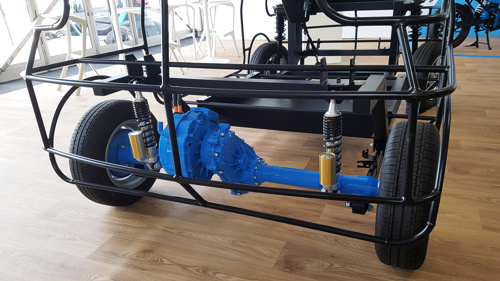 On show at Cenex-LCV will be Saietta's range of Axial Flux Technology (AFT) eDrives that are ideally suited to lightweight two-, three- and four-wheel EVs such as motorbikes, microcars and last-mile delivery vehicles. Compact packaging helps maximise the space available for occupants and cargo, while offering high torque density from a low voltage system.
Scooters and motorbikes are the dominant form of transport in Asia's cities and Saietta will display a range of eDrive solutions aimed at this sector. Along with a stripped back motorbike incorporating an AFT motor and controller, Saietta will also display a range of IPM (internal permanent magnet) air-cooled motors.
Saietta is also showcasing a wire-frame four-wheel vehicle exhibit on its Cenex-LCV booth which displays a complete integrated eAxle solution for electric microcars.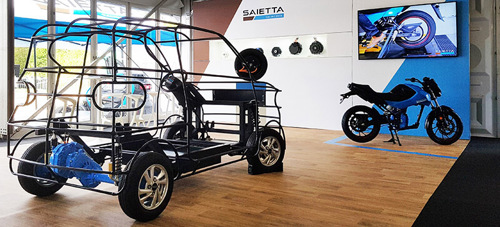 Integral to Saietta's status as a full-service eDrive solutions provider is its in-house power electronics capability, modular transmissions and bespoke e-axle architectures. These turnkey solutions enable vehicle manufacturers to accelerate the product development process and maximise their competitive advantage in the EVs they bring to market.
Saietta recently raised £23.6m in an oversubscribed investment round, which will facilitate the next phase in the company's strategy roadmap, including full-scale product commercialisation and further collaborative activities.
The Company is in the process of transforming the Sunderland production facility it acquired in April 2022 in preparation for pilot production to start in the first half of 2023. It is also on track to begin the manufacture in India of Light Duty eDrive (LDE) solutions for Indian customers before the end of 2022 through Saietta VNA, a joint-venture partnership with Padmini VNA, a leading Tier 1 automotive supplier in the country. Alongside its LDE Division, Saietta's Heavy Duty eDrives (HDE) Division focuses on truck and bus applications, while its Propel operation applies the company's AFT solutions to the lightweight leisure marine sector.
Wicher (Vic) Kist, CEO of Saietta, said: "As the world accelerates the mass adoption of passenger car EVs, we at Saietta are addressing other sectors which are major emitters of greenhouse gas emissions. In many parts of the world, particularly Asia, but also here in Europe, that includes light duty two-, three- and four-wheel lightweight vehicles. The turnkey solutions for those applications that we are displaying at Cenex-LCV can be tailored and integrated quickly and cost effectively by OEMs that need to respond to fast-approaching market pressures to electrify their product offerings."
Visitors to Cenex LCV will be able to locate Saietta on stand C3-600.
-Ends-